All cracks are routed, blown free of all debris and overband sealed using hot applied rubberized crack and joint sealant that
meets Provincial Highway Specifications.
Pavement Crack Repair

Process
Pavement cracks are identified and routed using a high torque Marathon carbide-tip crack router to create a channel reservoir for sealant.
Routed cracks are blown completely free of all dust and debris to ensure proper bonding of the sealant to the rout and pavement.
High spec. Hot rubberized crack sealant is melted in a double wall, oil jacketed kettle and then poured into special overband applicators.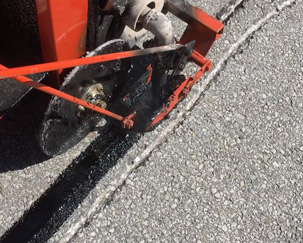 Cracks are then sealed using the overband applicators to ensure a superior bonding, and a consistent, visually appealing width of material to fill the routed reservoir and provide superior bonding and long joint life.
Our crew is equipped with Multiple applicator units to improve productivity and reduce your parking lots downtime.
All suitable cracks are sealed to ensure your parking lot achieves maximum protection from water infiltration.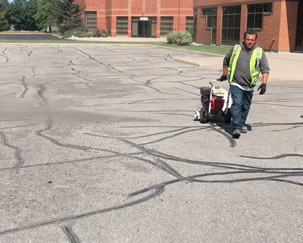 Routed debris can either be powerswept, or blown to the curb edge depending on the clients request.
Debris that is collected by a sweeper is removed off site for proper disposal.
Crack Sealing Project Profile:
Residential Streets
When the access roads began to show signs of deterioration in a residential condo community in Mississauga, they took action to protect the asphalt before it could cause serious damage. They selected Sure-Seal Pavement Inc. to take on the road maintenance project, and after consultation with our project manager who provided a full review of the condition of the asphalt pavement, it was decided the best course of action was to seal all of the pavement cracks using our High Performance Pavement Crack Rout and Seal process.
The Sure-Seal team identified and routed all of the suitable cracks, sealed them using our specially engineered hot material applicator carts and finished up the project by cleaning up the asphalt debris generated when the cracks were opened up to create an expansion and contraction joint. Nearly 2400 linear feet of cracks were sealed using our hot applied MTO approved crack sealant supplied to us by Right Pointe Products. Right Pointe is our supplier of choice rather than locally manufactured crack seal material as it has demonstrated exceptional durability well beyond the local "meets minimum standard spec." material. We are so confident of its performance that we offer a 2 year warranty on all our crack seal work and materials.
The Condo Management Board is now rest-assured that the enormous costs of asphalt replacement are kept at bay as the sealant will do its job in preventing further pavement damage from water infiltration for years to come.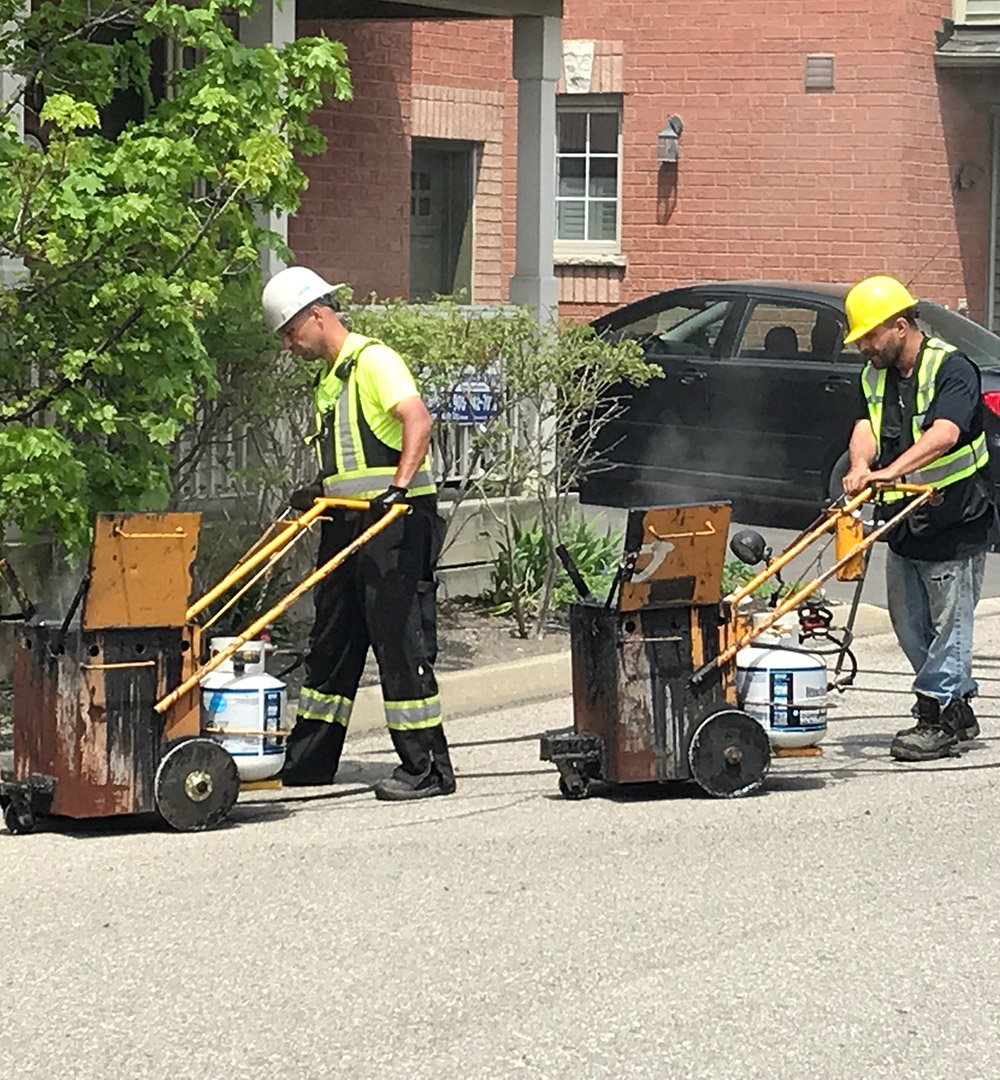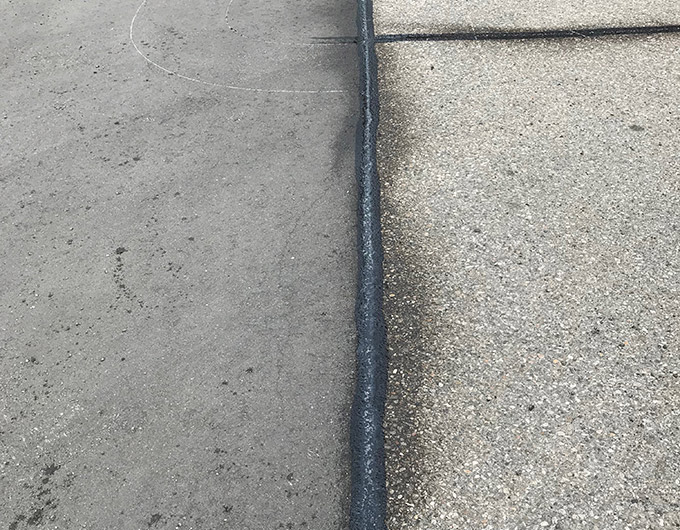 Pavement Crack Repair
Gallery