We specialize in a variety of services to keep any asphalt paved surface
looking and performing like new again
With over 20 years of experience, Sure-Seal Pavement Maintenance Inc. is the one of the top asphalt paving repair contractors in Toronto.
Asphalt Repair

Process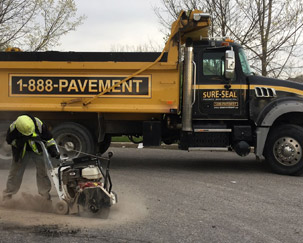 First, we mark the areas that we are going to remove and then cut your pavement using a high speed saw, allowing for complete removal.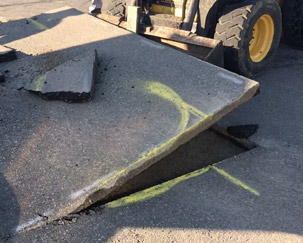 Next, we remove the asphalt from the damaged area, using skid steer loaders. We remove asphalt slightly beyond the damaged area to ensure smooth transition at the new asphalt joint.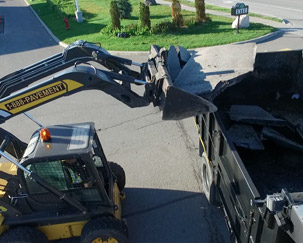 The asphalt that is removed is loaded into dump trucks to be recycled, ensuring minimal environmental impact and disposal costs. Asphalt is the #1 recycled building product in North America.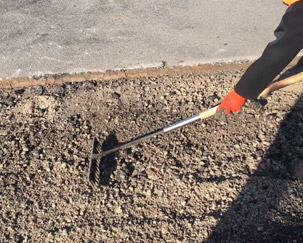 After removal, we re-grade the sub-base granular material that was beneath the asphalt, preparing it for compacting. We also inspect to ensure there's no soft areas or insufficient granular base in all repair areas. Problem areas are identified and remediated prior to paving.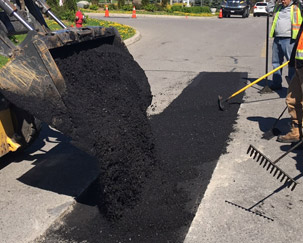 Repair areas are paved with a NEW Hot asphalt in 2 layers, up to 3" inches thick per layer depending on scope of work.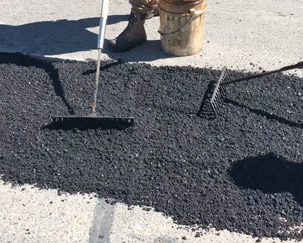 Asphalt is placed in the repair area and Rough Raked to achieve basic grading and slope to match the existing pavement elevations.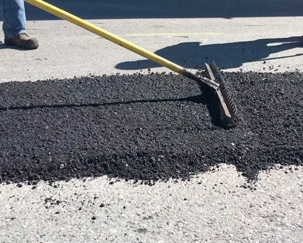 The Finish Raker levels and evens out the asphalt.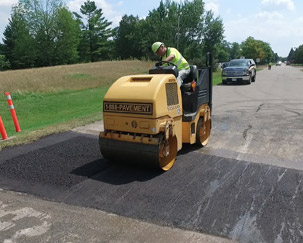 The surface layer is compacted using plate tampers and heavy rollers, resulting in a smooth, level surface.
Asphalt Repair Project Profile:
After the wear and tear of high volume traffic in a Lowe's parking lot caused extensive damage around the property, the retail company saw the need to call in an asphalt repair team to keep their customers safe and their property looking pristine. After research, they selected Sure Seal Pavement Inc. to assist them.
With 25 years of experience in the industry, Sure Seal Pavement Inc. knew that the damage was a base failure which occurs when the granular base material layer beneath the hot mix asphalt paved layers and driving surface can no longer adequately support the weight of the traffic. The best cost-effective solution would be to do a limited area asphalt repair, replacing the damaged areas of asphalt with 2 new layers of commercial spec. asphalt that will last them for years to come. This way, not only is the structure of the pavement improved, but the surrounding structurally sound pavement is protected as the source of potential damage is removed.
Sure Seal Pavement Inc. communicated with Lowe's central facilities team to find a day that best worked for the local store manager. After putting traffic plans in place, construction began according to schedule. Our experienced team saw cut the perimeter of the repair, removed and disposed of the damaged asphalt, added a new granular base as necessary and after applying a SS1 seam binder, paved a total of 3950 sq. ft. using a 4" hot mix asphalt.
With the repairs now completed to better than industry standards, Lowe's can be confident that they've removed potential liabilities and that clients will be content and safe when travelling through the lot.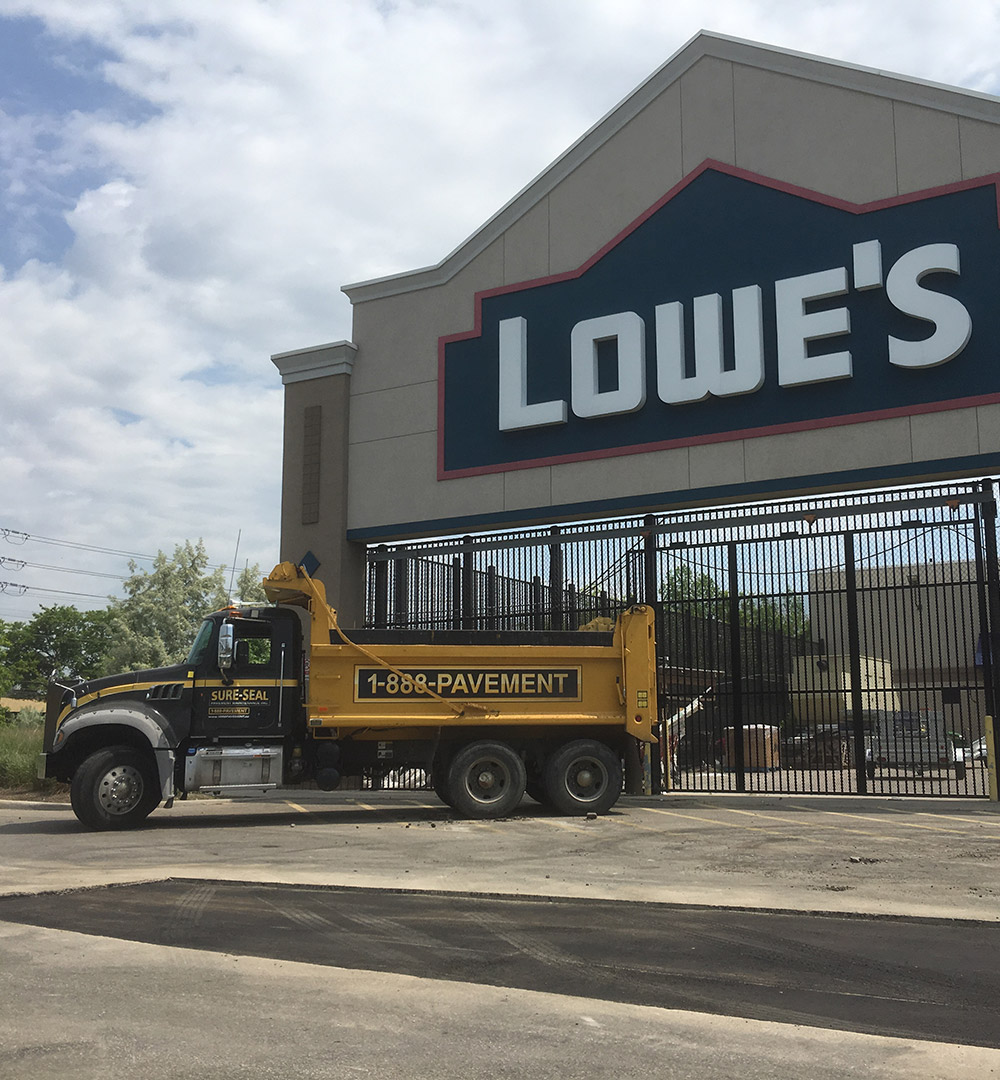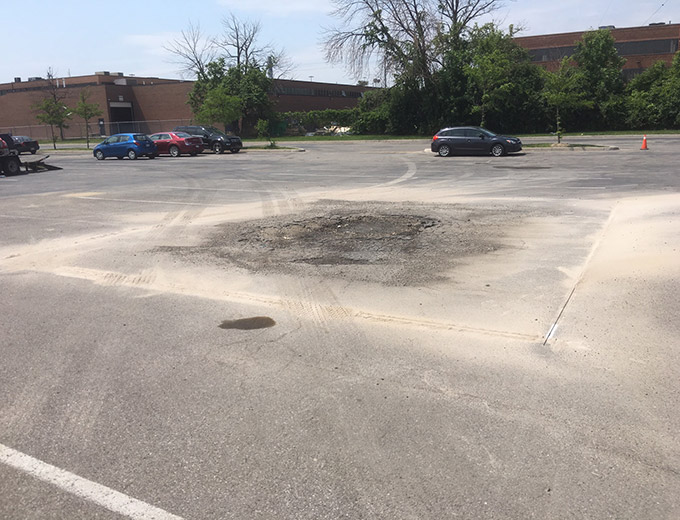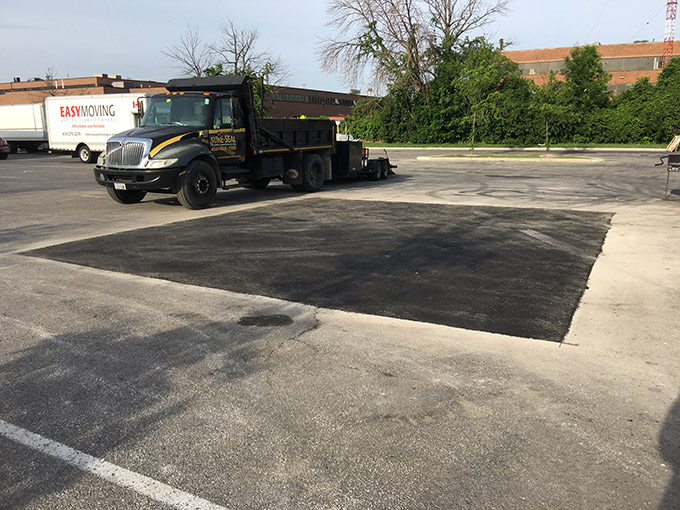 Why Are We the Preferred Asphalt Paving Repair Contractor in Toronto?
With over 20 years of experience, Sure-Seal Pavement Maintenance Inc. is the one of the top asphalt paving repair contractors in Toronto.
We specialize in asphalt paving repair and maintenance for:
Commercial
Industrial
Retail and
Corporate Properties.
If your parking lot is showing signs of deterioration, potholes or trip hazards, give us a call and we will assess your areas of concern within 24 hours and provide a proposal for remediation within 48 hours or sooner.
We are one of the top asphalt pavement maintenance companies in Toronto and the surrounding regions thanks to our affordable, quality service. We listen to what our clients want, and that's a safe driveway and/or parking lot that will stand up to everything, from day-to-day traffic to the Ontario weather, and will last for years.
The consistent excellence that we put into our work has made us the top choice for property owners, property managers, and professional pavement contractors in the Greater Toronto Area (GTA). Our reputation is so great that we frequently receive calls from clients outside the GTA for our specialized, capital cost-saving asphalt pavement maintenance and services.
As one of the top asphalt pavement maintenance companies in Toronto and beyond, we offer ease of access for our customers. No matter where you're calling from, use our easy to remember toll-free phone number, 1-888-PAVEMENT (1-888-728-3636) and we will return your call promptly. Once we arrive at your property, we will deliver our services in a timely, professional manner, will stay on budget and, of course, be backed by our commitment to excellence.
We are a privately owned pavement maintenance company with a team of highly experienced pavement maintenance professionals, second to none in the Toronto area. We also have a fleet of impeccably maintained vehicles and use only the latest and most productive equipment. Our employees are trained annually in best practice processes at the National Pavement Expo. In addition, our employees have collectively completed over 80 training seminars in the last seven years. We have a safety policy in place and an excellent safety record.
As one of the top asphalt pavement maintenance contractors in Toronto and the GTA, as well as being business owners ourselves, we realize how important it is to keep costs down. That's why we provide cost-effective pavement management processes that will ensure the longest pavement lifespan. At Sure-Seal, we deliver quality, reliability, professionalism, and safety; it's what we've staked our reputation as one of the top pavement maintenance companies in Toronto, ON.