What Is
Cold Asphalt Milling?
Asphalt milling is the process of removing the surface layer of the pavement in a parking lot or on a road to repair any internal damage that is apparent due to noticeable surface damage. Once the surface layer of the asphalt is removed, it is transported to the asphalt plant to be processed for re-use in new asphalt hot mix. Asphalt has one of the highest recycle/reclaim percentage of any building material in North America. It just makes good economic and environmental sense to use asphalt as your pavement choice.
Reasons for
Milling and Paving Your Parking Lots
You may be wondering why you should go through all the trouble of milling and paving your parking lot instead of simply covering the damaged areas with hot asphalt mix. Asphalt milling and paving is a process used in extreme cases where the pavement is plagued by severe internal and external damage that requires more extensive inspection and work as opposed to a simple quick fix. If there is a great deal of cracking and erosion or even water damage to the asphalt, it is a good idea to go below the surface and fix the problem from the inside out.
Cold milling is both economical and environmentally friendly because it allows you to reuse the pre-existing asphalt by compounding it and mixing it in with the new asphalt aggregate to repave your parking lot. It prevents the old asphalt from being wasted or ending up in a landfill. In the milling and paving service industry, the reused asphalt is referred to as recycled asphalt pavement (RAP). Sometimes, the contracting companies keep the RAP for forthcoming projects instead of reusing it on the parking lot from which it was originally extracted.
Asphalt Milling
Cost per Square Foot
The cost of asphalt milling or cold milling varies from one district to another, and it also depends on the size of the parking lot or road that requires the milling and paving services. Usually, companies that offer parking lot milling services are willing to first survey the extent of the damage to the pavement and then provide an estimate based on individual circumstances. The average cost of cold milling, however, can be anywhere from $0.75 to $1.25 per square foot.
Why Choose Us?
Your parking lot may be a candidate for asphalt milling and paving. A total reconstruction is not always required and there can be huge cost savings if your timing is right. We offer free inspections and cost effective solutions.
Our paving crew has the equipment to get the job done right. No baby equipment here! Count on us to have the resources to bring your project to a successful completion, on time, every time.
Asphalt mill grinding creates a ideal surface to overlay an existing parking lot, without raising the elevation at curbs and sidewalks.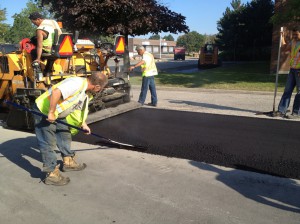 Our paving crew is top notch! Smooth as can be.
Proper compaction is more critical to long pavement life than any other factor. We have the proper heavy compaction equipment to reach full density values, each and every time.
Is your lot completely full Monday to Friday? We can schedule your work on Saturdays if necessary.
Let our work be our best advertisement. The quality speaks for itself!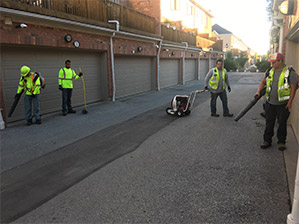 Area repairs, cold seam failures, and trenches are all great candidates for milling and paving repair.
Parking Lot Milling Services Offered by Sure-Seal Pavement Maintenance Inc.
Sure-Seal Pavement Maintenance Inc. has over 24 years of experience in asphalt paving, cold milling, and other parking lot milling services. We are always ready and willing to offer premium services for affordable prices. For more information, please call our toll-free number at 1-888-PAVEMENT (1-888-728-3636), or if you're in Toronto, call (416) 410-3705.