When it comes to your asphalt parking lot, driveway, or surface, using slurry seal is one of the best ways to enhance your property, save money, and increase the lifespan of your asphalt.
With slurry sealcoating, you can prevent the common forms of damage that degrade asphalt, reducing the life of your pavement and requiring costly repair.
Slurry Sealing Contractors

in Toronto
If you're looking for slurry sealing contractors in Ontario, then Sure-Seal Pavement Maintenance Inc. can provide expert service that will extend the life of your pavement and save you money in the long-run.
Asphalt is easily damaged by a variety of things, including UV rays, wear-and-tear from vehicles, fluctuating temperatures, and gasoline/oil spills. When your asphalt cracks, water can seep in, degrading the ground beneath and causing potholes, uneven pavement, and other forms of major damage.
Our slurry sealcoating can protect your pavement by providing a hardened layer over your pavement that prevents damage while improving both appearances and use.
Slurry seal is one of the go-to industry methods for improving the integrity, appearance, and durability of asphalt surfaces. With slurry seal pavement, your property is given an even, level, and textured surface that looks great and keeps your pavement in long-lasting condition.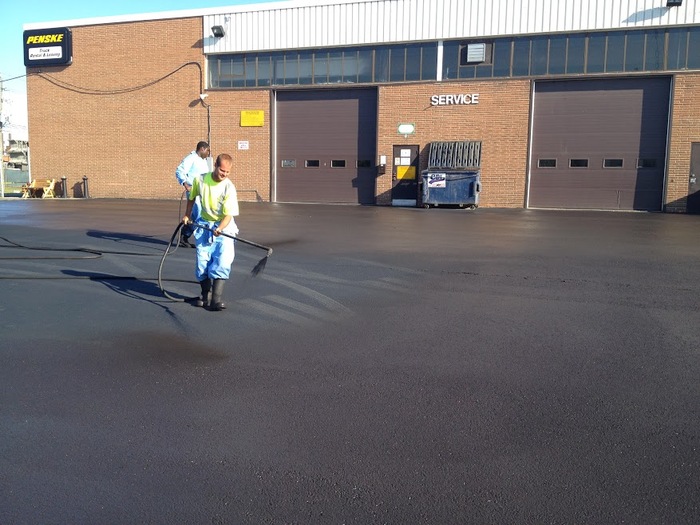 Our Slurry Seal
Process
At Sure-Seal Pavement Maintenance Inc., our professional slurry seal contractors follow a standard slurry seal process to ensure that your property is guaranteed great results and an extended lifespan.
Preparing Slurry Seal Area
First, to ensure that your slurry seal is applied correctly and in good condition, we clean the application area to remove dirt, debris, vegetation, oil spills, and other things that can affect seal bonding. In some cases, we will use a specialized sealant for particularly damaged areas. We also cover and protect any elements of your property that could become damaged, including drains and utility covers.
Application of Slurry Seal
Slurry seal is applied by our professional contractors, ensuring a smooth, even, and durable surface. First, slurry seal is applied by squeegee or hand to the border of the application area, preventing damage from machinery. Depending on the size and layout of your property, different tools and machinery may be used, from trucks with mixing machines to handheld implements. Our slurry sealing requires a drying time of three to six hours. For faster jobs, vehicles are available that can coat slurry seal in 14 foot wide strips at a time.
Monitoring the Automatic Mixing Process
When slurry sealant is being mixed, it's important to have professional contractors monitoring the process, ensuring safety and proper application. Slurry seal is mixed quickly on the job site, which means that professionals have to ensure that the right mixture is made and that all the proper procedures are followed.
Why Choose Us?
If you're looking for slurry seal companies, Sure-Seal Pavement Maintenance Inc. provides slurry sealing for commercial and public properties throughout the Ontario region, including Toronto, Burlington, Brampton, Mississauga, and other municipalities.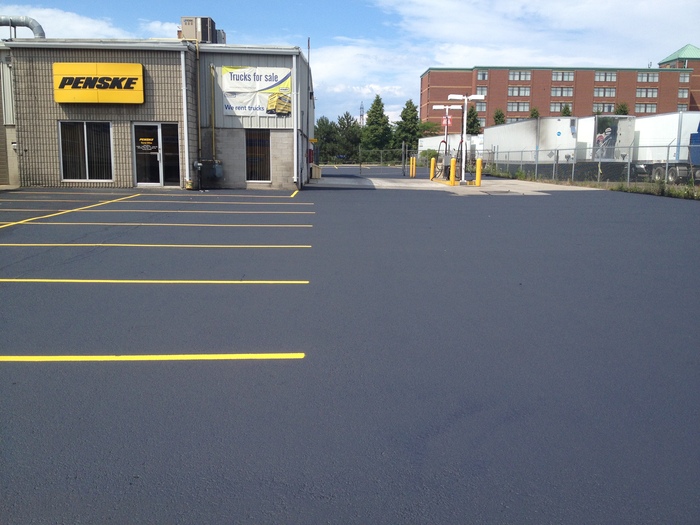 Call Us

for Municipal Asphalt Paving Contractors in Toronto

Sure-Seal Pavement Maintenance Inc. provides expert asphalt paving services to municipalities and clients throughout Ontario. If you are looking for a paving company to handle repairs, regular maintenance, or major construction, Sure-Seal can offer professional contractors, advanced equipment, and the highest-quality materials to complete your paving project. From repairs (pothole repair, catch basin repair, crack sealing) to upgrades (linemarking, speed hump installation) to major road work (asphalt removal and replacement, milling and paving), our paving company can handle it all. Contact Sure-Seal Pavement Maintenance Inc. today for a free assessments of your property to determine the right solution for your asphalt surface.

Experienced Slurry Sealing Company in Toronto

We are the premier slurry seal contractors in the GTA, performing slurry seal for all types of properties, from parking lots and driveways to roads and public areas.

Slurry Sealing Techniques

We use the right techniques for all of our jobs to ensure that your property receives the highest quality service and that you are satisfied with our performance. We perform free inspections of all properties and offer detailed assessments for all of our clients, ensuring a price, schedule, and repair that works for you.

We use advanced machinery that allows us to provide the smoothest, most durable slurry sealed surfaces. Our trucks are capable of coating up to 14 foot wide strips of slurry seal at a time, ensuring fast, prompt application for any job.

We stand behind the quality of our slurry sealing, which is why we offer a three-year warranty on paving, guaranteeing that our job will stand the test of time and provide you with long-lasting durability.

As the leading pavement maintenance contractor in the GTA, Sure-Seal Pavement Maintenance Inc. specializes in line marking, pavement repair, and repaving. Contact us today for more information on our services.